Skip to content Join our Newsletter Northern B.C. falling behind, as province hits vaccination milestone More than 75% of British Columbian adults now vaccinated against COVID-19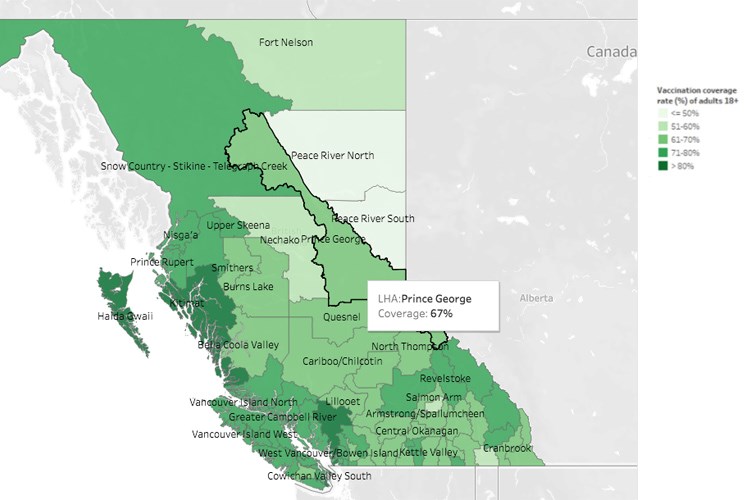 This map, produced by the B.C. Centre for Disease Control, shows the adult vaccination rate, broken down by local health area.
More than 75 per cent of British Columbian adults are vaccinated against COVID-19, provincial health officer Dr. Bonnie Henry and Health Minister Adrian Dix announced on Friday.
In April, Canada's chief public health officer Dr. Theresa Tam said the country could look at lifting public health restrictions when 75 per cent of adults have received at least one dose of COVID-19 vaccine, and 20 per cent both doses.
"Today, we are reporting that 75.1 (per cent) of all adults in B.C. and 73.1 (per cent) of those 12 and older have received their first dose of a COVID-19 vaccine," Henry and Dix said in a joint statement issued on Friday. "As long as we increase our contacts in a slow and measured way, register and get fully vaccinated, and continue to use our layers of protection, we can confidently move forward with BC's Restart plan. What we have seen is that getting fully immunized with your first and second doses of COVID-19 vaccine is making the difference, helping to dramatically slow the spread in our communities."
In the Prince George local health area – which includes Mackenzie and the Robson Valley – 67 per cent of adults, and 65 per cent of those aged 12 and up were vaccinated as of Thursday, according to B.C. Centre for Disease Control data.
Vaccination rates in most of northeast and north-central B.C. are lagging far behind the provincial average.
In the Peace River North, Peace River South and Fort Nelson local health areas, the vaccination rate for those 12 and up ranged from 46 to 50 per cent – the lowest levels in the province. In the Quesnel, Smithers, Burns Lake and Nechako local health areas, vaccination rates for those 12 and up were between 55 and 60 per cent.
However, vaccination rates in northwestern B.C. were largely above the provincial average. The Kitimat, Prince Rupert, Haida Gwaii, Terrace and Central Coast local health areas had vaccination rates for those aged 12 and up between 68 and 85 per cent, as of Thursday.
Between Thursday and Friday, Northern Health administered 4,064 doses of COVID-19 vaccine. However, less than 25 per cent (1,010) of those doses were first doses for previously-unvaccinated people. The other 3,054 were second doses for those who had already had their first shot.
Across the province, only 22.8 per cent (16,108 of 70,478) of vaccine doses administered between Thursday and Friday were first doses, based on B.C. CDC data.
In total, B.C. has administered 3.89 million doses of COVID-19 vaccine, including 176,300 doses across the Northern Health region. In the Northern Health region, 148,237 people have had at least one dose, and 28,063 have also received a second dose.
On Friday, 10 new cases of COVID-19 were reported in the Northern Health region. The number of active cases increased by one from Thursday, to 74.
Only five people with COVID-19 remained in Northern Health, with four of those in critical care, the B.C. CDC reported.
The region's death toll from the pandemic remained unchanged at 154.
Since the start of the pandemic, there have been 7,751 cases of COVID-19 in the Northern Health region, of which 7,522 people have recovered.
On Friday, Northern Health announced a COVID-19 outbreak in ain the special care unit (south) of Rotary Manor in Dawson Creek. Two people tested positive for COVID-19, one of which – a resident – had died.
Anyone who has not already done so can register to receive a COVID-19 vaccine by going online to www.gov.bc.ca/getvaccinated or phoning 1-833-838-2323 between 7 a.m. and 7 p.m. daily.
"Let's keep slowly and purposefully moving forward to allow all of us to put the COVID-19 pandemic behind us," Henry and Dix said.
More Local News

Anti-lockdown protest draws crowd of 'rebels' to Lheidli T'enneh Memorial Park

Local athletes compete in Spruce City Invitational track meet

Carney Street lacrosse box getting a facelift Comments