prognosis Europe Toughens Curbs on U.K. Visitors to Stem Virus Variant Updated on
Portugal, Spain among those imposing new restrictions
Elsewhere, Hong Kong will ban passenger flights from Britain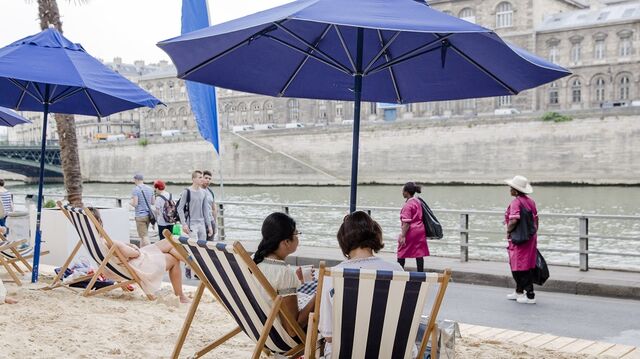 WATCH: The highly transmissible Delta variant is clouding the outlook for the EU at a time when the summer season is getting underway.
Portugal and Spain imposed new restrictions on U.K. visitors amid concern about the coronavirus delta variant as Germany pushed for a more coordinated European Union response to try to limit the strain taking hold in the bloc.
The changes are a setback for Europe's holiday destinations just as the summer tourism season should be kicking up a gear, and shares of airlines including Ryanair Holdings Plc fell on Monday.
The latest decisions add to the patchwork of confusing, and rapidly changing, rules in place for holiday makers. German Chancellor Angela Merkel has suggested the entire EU should coordinate closely and be more cautious about allowing entry to travelers from external countries. The country already has ban on most travel from the U.K., which it describes as a "variant area of concern."
Within the EU itself, Merkel said the reintroduction of border closures among countries should be avoided.
During the first wave of the pandemic, closures "were probably unavoidable," she said on Monday during a German-French parliamentary meeting. "But I agree that something like that shouldn't repeat itself."
Portugal's latest decision, which takes effect Monday, imposes a quarantine on unvaccinated arrivals from Britain. Other countries have also recently announced new rules:
Spain said on Monday that U.K. tourists coming to Mallorca and Ibiza will have to show proof of full vaccination or a negative PCR test
Starting Wednesday, U.K. holidaymakers heading to Malta will also have to quarantine for 14 days upon arrival if they haven't had their second dose
Earlier this month, Italy introduced a five-day quarantine and mandatory testing for travelers from the U.K.
On Friday, Germany placed Portugal on its list of variant-concern areas, requiring tourists returning from the Iberian country to quarantine for 14 days
Also, Hong Kong said Monday it will ban all passenger flights from Britain starting Thursday, labeling the country "extremely high risk"
Irish discount carrier Ryanair and its U.K. rival EasyJet Plc fell 2.9% and 3.8%, respectively, as of 1 p.m. local time on Monday. British Airways owner IAG SA, Deutsche Lufthansa AG and Air France-KLM, the region's three large flag carriers, also slipped. Spain's top holiday resort operator, Melia Hotels International SA, fell as much as 6.2%.
Trade group Airlines for Europe is also calling for better coordination among EU member states. It said Monday that while the variant is worrying, EU populations most vulnerable to Covid-19, such as the elderly, have now been protected.
"With vaccination rates rising across Europe, what we need most now are consistent, established rules for travelers — not constantly changing national restrictions," A4E said in a statement.
The latest restrictions come days before the start of the EU's Covid-19 travel certificate program, intended to ease travel within the bloc for those vaccinated. The EU has administered one dose to about half the population, while almost 32% are fully vaccinated. In the U.K., 49% are fully vaccinated.
The EU certificate system is set to go live on July 1 as planned and 20 member states are already issuing certificates, a European Commission spokesman told journalists in Brussels. Talks with the U.K. on digital certificates are progressing well, another spokesman said.
Merkel and French President Emmanuel Macron have previously pushed for a more coordinated response on travel rules. They've also been critical about Greece and other southern European tourist destinations which allow in tourists from variant risk areas, or from countries using non-EU approved vaccines.
Since May 17, Portugal has been allowing U.K. tourists to enter with a negative Covid-19 test. Earlier this month, the U.K. removed Portugal from its quarantine-free "green" list, reversing an earlier step to lighten travel restrictions.
Last week, the U.K. added Spain's Balearic islands and Malta onto the green travel list. It plans to ease rules further "later in the summer" to allow people who are double-vaccinated to return from countries in its amber list without needing to self-isolate.
— With assistance by Siddharth Vikram Philip, Macarena Munoz Montijano, Rodrigo Orihuela, Flavia Rotondi, Iain Rogers, Arne Delfs, and Katharina Rosskopf
(Updates with comment from Merkel in fourth paragraph, details on EU certificate system in 12th.)